About Bran Castle | The Spooky Castle of Transylvania
Contents
Bran Castle, positioned high atop a 200-foot-high rock and surrounded by an aura of mystery and folklore, owes its fame to its majestic towers and turrets as well as the mystique generated around Bram Stoker's Dracula. Bran fortress was first attested in an ordinance issued on November 19, 1377. Bran Castle boasts a commanding view of the charming village of Bran.
Bran Castle - Quick Facts Alternative Names: Dracula's Castle
Location: Strada General Traian Moșoiu 24, Bran 507025, Romania
Building Type: Fortress
Architectural Style: Medieval
Owned By: Archduke Dominic von Habsburg of Austria-Tuscany
Bran Castle Location
What is Bran Castle?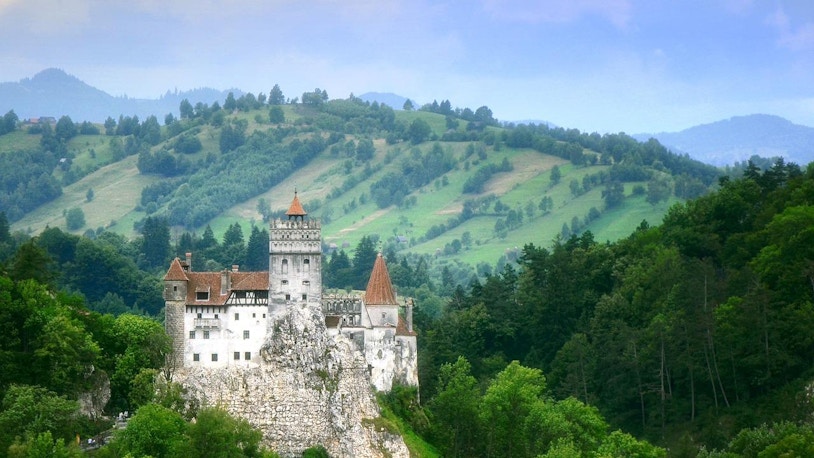 Between 1377 and 1388, Bran Castle was built atop a strategic location overlooking a widely frequented mountain route between Transylvania and Wallachia, the territory governed by Vlad the Impaler in the 15th century. By 1388, the castle was completed and was also used as a customs house for Transylvania, which was then a province of Hungary. In the early 15th century, King Sigismund of Hungary temporarily gave up the fortress to Prince Mircea the Old of Wallachia, a neighboring kingdom under threat from the Ottoman Turks. 
The castle is owned by the descendants of Queen Marie, who received it in 1920 as a gift for her efforts to bring Romania together. Currently, Bran Castle serves as a museum dedicated primarily to the Romanian Queen Marie. The castle is also a famous venue for Halloween events, such as the 2016 competition to win a chance to spend a Halloween night at the castle, following the steps of Jonathan Harker from Bram Stoker's novel.
Why is Bran Castle so Famous? Bran Castle played a significant role in the history of Transylvania. 
It played a major role in defending against the Ottoman Empire from 1438 to 1442. 
Up until the mid-18th century, Bran Castle played a strategic military role. 
Rumors of Vlad Tepes being the inspiration for one of the most iconic characters of Count Dracula popularized Bran Castle as Count Dracula's Castle. 
Romania soon started to market Bran Castle as Count Dracula's castle to improve tourism.
Bran Castle Facts
Why is Bran Castle Called Count Dracula's Castle? Vlad Tepes Dracula, also known as "Vlad the Impaler," is said to have been imprisoned at Bran Castle. Bram Stoker's 1897 novel "Dracula" is said to have been inspired by the terrible Romanian king. Countess Elizabeth Bathory, a Romanian legendary woman serial killer, is also said to have inspired the story. 
Bran Castle is known as "Dracula's Castle" in the region and worldwide because of its tenuous link to the renowned vampire. Due to his medieval bloodlust, the king, also known as Vlad III Dracula, is often thought to be the basis for Count Dracula. He enjoyed torturing people and would impale his opponents on the battlefield to deter his other foes. Although Bram Stoker never visited Central Europe, the castle's moniker is justified by underground tunnels, archaic weapons and armor, and the frightening sounds the medieval structure creates.
Count Dracula
Who Built Bran Castle? The Hungarian King Louis the Great issued a decree on November 19, 1377, authorizing the citizens of Brasov the right to erect a castle. The Saxons of Transylvania were urged to participate in the construction of Bran Castle through this text. The construction of the castle was completed in 1388. The Castle was built on a cliff between Măgura and Dealul Cetăţii, with a spectacular view of the surrounding hills, Moeciu Valley, and Valea Bârsei.
Design of Bran Castle The castle's exterior look varied over time, adjusting to the function it served, beginning as a wooden fortification built by the Teutonic Knights in the 13th century. The current structure, which is fashioned like an uneven rectangle, was built a century later. The round southern tower was built in the 17th century, followed by a square-shaped tower on the eastern side, both of which are still standing. The roof of the building, which is covered in red tiles and adds to its fairytale beauty, comes from the nineteenth century. The inside of Bran Castle was renovated, and Queen Marie, Romania's last queen consort and granddaughter of Queen Victoria, used several of the castle's 57 rooms.
What to See at Bran Castle? The King and Queen's Rooms
There are 57 rooms at Bran Castle and the rooms that were once occupied by King Ferdinand and Queen Marie still contain some of their belongings. King Ferdinand's rooms are especially well-maintained and you can see his old furniture, armor and also a collection of daggers. You can also look at some of the items that Queen Marie used while she lived there. Torture Room
It is said that King Vlad III was imprisoned and tortured here. The torture instruments present at Bran Castle add to its spooky vibe, and you can discover some of these tools on your visit as well. One particular highlight of these instruments is the torture chair covered with spikes all over its surface. There are also other tools like the iron maiden, the rack, and much more. History of Dreads
Romania has many mythological stories about spirits, creatures and other beings that come out at night to torment the people living in and around Bran. The History of Dreads exhibit at Bran Castle sheds some light on some of these mythological creatures. Here, you can learn more about the Grim Reaper, the Strigoi, the Werewolf, the Iele, and many other such creatures. Old Water Well
Bran Castle used to have an ancient water well in its courtyard that only functions as a decorative feature today. This well also used to have a secret chamber right above the water level that served as a hideout during invasions. When Queen Marie renovated the castle, she extended this secret chamber horizontally to run under the castle and attached an elevator to the tunnel for her to descend without the stairs. Queen Marie's Heart
Queen Marie considered Bran Castle to be her home. She loved the castle and the people around so much that she wanted to be buried in the castle gardens after her death. She also wished that her heart be extracted from her body and placed in a church on Black Sea Shore. Today, Queen Marie's heart rests in a chapel built on a cliffside close to Bran Castle. Narrow Stairway
There is a narrow stone-carved staircase inside Bran Castle that once functioned as a secret passage during emergencies. It connects the first floor to the third and is built in such a way that only one person could fit through at a time. A fake fireplace concealed the entrance to this tunnel, which left it undiscovered for generations until Queen Marie decided to renovate the castle in 1920.
The Time Tunnel A traditional well was dug into the stone while the fortification of Bran Castle was being erected. Then, in 1930, Queen Marie of Romania purchased the property, and she and architect Karel Liman decided to convert the well's shaft into an electric elevator. As a result, the horizontal gallery was dug to connect it to the Royal Park at the castle's foot. The two galleries were forgotten soon after the Royal Family left in 1948, and were overwhelmed by darkness and stillness. 
A multi-disciplinary team created a part of the rock that has weathered the ages, observing historical events at the crossroads of cultures and nations, seventy years later. Today, the Time Tunnel thrives and develops as a result of human ingenuity and inventiveness in the field of technology. The Time Tunnel as a media presentation can be enlarged and adapted to new technologies in the future.
Plan Your Visit to Bran Castle
Bran Castle Location
Bran Castle Opening Hours
Address: Bran Castle, Strada General Traian Moșoiu 24, Bran 507025, Romania
Located about 30 km away from Brasov, Bran Castle functions as the entrance of the Rucăr - Bran passage. It is about 160 km away from Bucharest and surrounded by the beautiful mountain ranges of Bucegi and Piatra Craiului. 
Getting to Bran Castle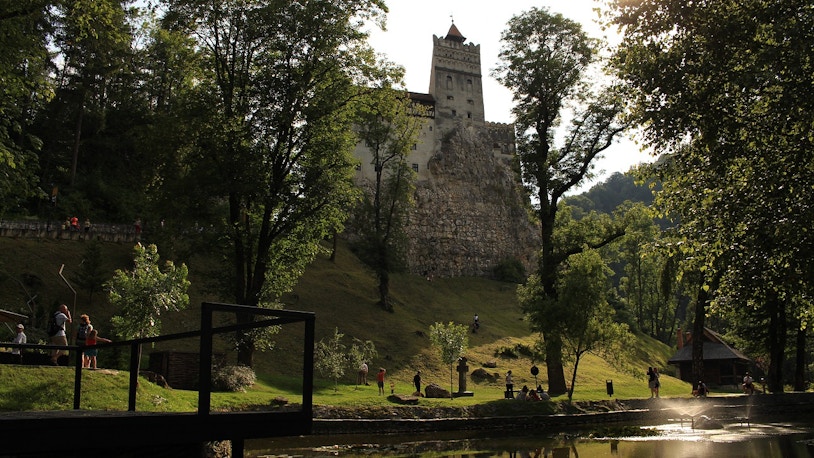 Tuesdays to Sundays: 9 AM to 6 PM, last admission at 6 PM
Mondays: 12 PM to 6 PM, last admission at 6 PM
How long does it take to tour Bran Castle? 
It takes about 45-60 minutes to take a complete tour of Bran Castle. 
Bran Castle Opening Hours
Book Your Bran Castle Tickets
Frequently Asked Questions About Bran Castle
A. Bran Castle is a fortress on the edge of a cliff in Transylvania, Romania. It has a spooky reputation for being the only castle in Transylvania that bears a few resemblances to the Dracula's Castle in Bram Stoker's novel, Dracula.
Q. Is Bran Castle open to the public?
A. Yes, Bran Castle is now open for visits to the public. 
Q. Do I need tickets to enter Bran Castle?
A. Yes, you will have to buy tickets to enter and explore Bran Castle. 
Q. Where can I buy tickets to Bran Castle?
Q. Why is Bran Castle important?
A. Bran Castle gained a lot of popularity after many fans drew the connection between Count Dracula's castle in Dracula and Bran Castle. It also is a brilliant example of the rich history and culture of Romania and sheds light on the many mythological stories of the villages nearby. You can also learn about the beloved Queen Marie and her life at her home, Bran Castle. 
Q. When was Bran Castle built?
A. Bran Castle was first constructed in 1388 but has undergone many renovations over time. 
Q. Why was Bran Castle built?
A. Bran Castle was first built to act as a vantage point against incoming invasions. Since it was also on the border of Wallachia, it also functioned as a customs office and collected taxes from anyone passing through. 
Q. What is Bran Castle used for today?
A. Today, Bran Castle functions as a museum that displays King Ferdinand and Queen Marie's belongings while shedding light on the ancient mythological stories of Romania. 
Q. Where is Bran Castle located?
A. Bran Castle is located in Strada General Traian Moșoiu 24, Bran 507025, Romania. Find it on Maps
Q. Are there guided tours available for Bran Castle?
A. Yes, there are guided tours available for Bran Castle. You can book your Bran Castle guided tour tickets here. 
Q. How do I skip the lines at Bran Castle?
A. You can skip the long ticket lines by simply booking skip-the-line tickets to Bran Castle. Book them here. 
Q. What are the visiting hours at Bran Castle?
A. Bran Castle is open every day from 9 AM to 6 PM except Mondays. On Mondays, the timings are from 12 PM to 6 PM. Detailed Bran Castle timings
Q. How much time do I need to explore Bran Castle?
A. It is recommended that you set aside at least 45-60 minutes to make the best of your visit to Bran Castle. 
Q. Is Bran Castle wheelchair accessible?
A. Unfortunately, Bran Castle is not wheelchair accessible. However, you can visit its royal gardens in a wheelchair.