Is Bran Castle Really Dracula's Castle?
Contents
Nestled between Wallachia and Transylvania, Bran Castle is one of the most iconic and popular tourist destinations in Romania. This castle has caught eyes globally for its association with Dracula's castle. But whether or not this is entirely true is a mystery we'll later uncover on this page, so read on to find out more! 
Who is Count Dracula? Count Dracula is one of the leading characters of Bram Stoker's famous novel published in 1897, Dracula. It's claimed that this character was inspired by Vlad III, more commonly known as Vlad the Impaler, one of the rulers of Wallachia from 1448 to 1476. Count Dracula is of the most iconic fictional characters of all time and is described as a centuries-old vampire with pointed ears and sharp teeth in the book. Known to be a ruler of a namesake palace called the Castle Dracula, he aims at expanding his control across Europe by creating more vampires.    
Bran Castle Facts
Count Dracula's Castle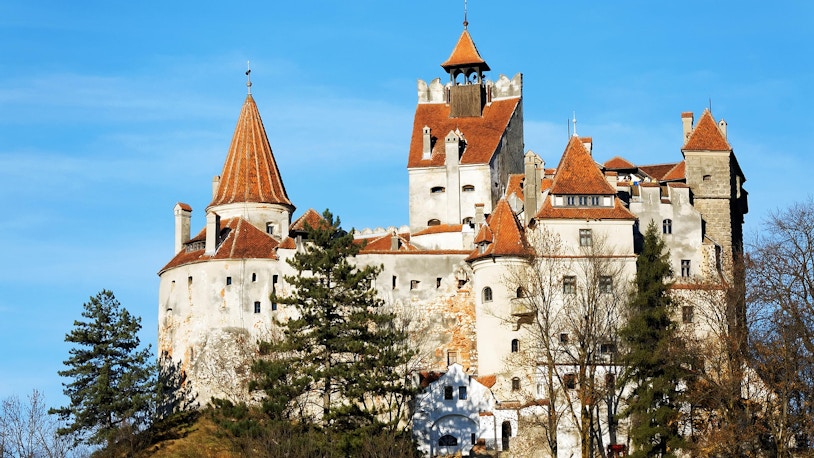 The 2nd chapter of the novel Dracula describes the Count's castle as ". . . on the very edge of a terrific precipice . . . with occasionally a deep rift where there is a chasm [with] silver threads where the rivers wind in deep gorges through the forests." 
And the only castle that fits this description near Transylvania is the Bran Castle.
In his book, Stoker describes Dracula's castle as a stone castle on the perch of a rocky mountain, with a spectacular view, spooky vibes, and alongside a flowing river in Transylvania. However, the resemblance stops here as none of the other features of either of the castles bear any similarities.
In fact, Bram Stoker never set foot in Romania at all. He only described the castle as it was available to him in Britain. It is also said that he drew inspiration from the illustration of Bran Castle in Charles Boner's book to describe his character's castle. 
Was Vlad the Impaler the Dracula? The fictional character of Dracula is said to be inspired by one of the best-known figures of Romanian history - Vlad III, who was the Prince of Wallachia back then. Although historians are convinced that Vlad never really stepped foot in Bran's Castle, it is said that he became the main inspiration of Bram Stoker's character as Vlad The Impaler was known to have committed an array of atrocities during the war. 
While conducting research on the region of Transylvania, Stoker came across many of the atrocities Vlad had committed at the time. Some claim that he used the name "Dracula" after he learned about these atrocities, but his inspirations weren't just based on this. It is likely because of American Cinema that a connection between Count Dracula and Vlad III was ever established.
Bran Castle History
Why Was Vlad the Impaler Considered to be Count Dracula? During this reign, Vlad III was known for this brutal act of violence. It is said that during a threat attack from the Ottoman forces, he ruthlessly impaled the bodies of his enemies and citizens in the outskirts of his country. This also earned him the nickname of Vlad The Impaler. It's also claimed that he killed the people in his kingdom who displeased him in the most inhumane manners including being boiled/skinned alive, beheading or disembowelment.
However, apart from the name, Bram Stoker didn't suggest any connection between Count Dracula and the real person with historical significance, Vlad Tepes.
Did Vlad the Impaler Live at Bran Castle? Although Vlad III is associated with the fictional character Dracula, he never really resided in Bran Castle. After an array of observations, historians and scholars concluded that Vlad III never really set foot in the castle or owned anything in Transylvania. However, there are theories that Vlad The Impaler was locked up in the castle for 2 months once he was captured by the army of the Hungarian king.
Inside Bran Castle
Why is Bran Castle Called Dracula's Castle? With a bunch of resemblances with the Dracula Castle described in Bram Stoker's iconic horror novel - Dracula - Bran Castle has been globally associated with the latter. While some resemblances do exist, the castle's reputation today as Dracula's castle depends a lot more on American Cinema and Romania's attempts to market it for tourism. 
In the 1970s, Romania decided to market Bran Castle as the real Dracula Castle because of its dramatic architecture, its remote location, and the slight supposed connection to Vlad III. Today, the only connection that holds the most significance between Bran Castle and Dracula's Castle is simply tourism-driven. 
About Bran Castle
Book Your Dracula's Castle Tickets
Frequently Asked Questions About Dracula's Castle
Q. Is Bran Castle really Dracula's Castle?
A. No, although there are striking resemblances between the two castles, many historians have proved that the description in the novel doesn't match the real-life Bran Castle.  
Q. Why is Bran Castle called Dracula's Castle?
A. Bran Castle is closely associated with Dracula's castle as it's the only castle in Transylvania that matches with the vivid spooky description mentioned in the novel. However, after rumors of the supposed connections were dismissed, Romania decided to market the castle as the real Dracula's castle to increase tourism.
Q. Did Dracula live at Dracula's Castle?
A. As per the novel, Dracula lived and ruled from a spooky-looking castle called Dracula's Castle.
Q. Can I visit Dracula's Castle?
A. Yes, you can visit Dracula's Castle or Bran Castle. You can book your tickets for the same here.
Q. Where can I get tickets to Dracula's Castle?
A. You can buy the tickets on the spot. However, it's recommended that you buy your tickets online to skip the queue. Book Bran Castle tickets.
Q. Is Count Dracula real?
A. No, Count Dracula is a fictional vampire character from Bram Stoker's novel - Dracula. 
Q. Was Vlad the Impaler the Dracula?
A. Vlad the Impaler received his reputation as Dracula owing to his brutal acts of violence against his enemies. While Bram Stoker did name his character Dracula after learning about this violence, Vlad Tepes isn't really the sole inspiration for Count Dracula's character.
Q. Did Bram Stoker visit Bran Castle?
A. No, Bram Stoker never really visited Romania or Bran Castle. Stoker only drew inspiration from the stories and illustrations of Bran Castle to describe Count Dracula's castle.